By Mo Ying
Every champion has his story, so does Qingdao Haijia Machinery Co., Ltd., the invisible champion in the water jet loom industry. In 2018, Haijia produced 10,778 water jet looms and delivered 10,735. The output increased by 30% and the annual output value reached 700 million Yuan. From 2016 to 2018, the average growth rate of operating revenue reached 57%.
Haijia Machinery, founded in 2001, is a professional manufacturer of shuttleless looms integrating research and development, manufacturing, sales, international trade and service. In 2017, the company passed the certification of ISO9001:2015 Quality Management and Certification System and the ISO14001:2015 Environmental Management Certification System and the GB-T28001-2011 Occupational Health and Safety Management System. In 2018, the company was approved by Certification of Intellectual Property Standards Implementation System and became a pilot enterprise of national integration management system of IT application with industrialization.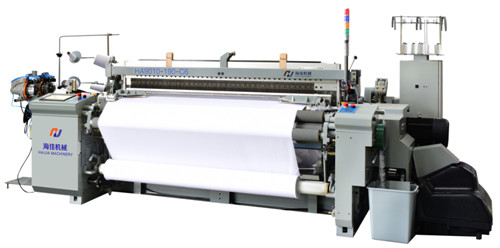 HA9010-190-C6 high-speed air jet loom
Water jet looms and air jet looms of Haijia are mainly sold to various regions in China and overseas markets in countries and regions, such as India, Indonesia, Pakistan, Egypt, Vietnam, Bangladesh, Turkey and Nepal, etc. Among them, the sales volume of water jet loom has been in the leading position in the world for many years, and Haijia has gradually become the preferred brand for domestic and foreign customers. In China, Haijia looms are used in the workshops of Fuhua, Jurun Textile, Hengtian Home Textile of Chemical Fiber and other well-known textile enterprises.
The reason why Haijia machinery is recognized by more and more customers worldwide is the improvement of its competitiveness: such as investing 16 million Yuan to upgrade processing equipment, mold and develop new products, spending 30 million Yuan on renovating painting process equipment, investing 3 million Yuan to open up the international market, investing 3 million Yuan to upgrade the second workshop, storage shelves and information management system, and introducing technology, management and reserve talents, etc.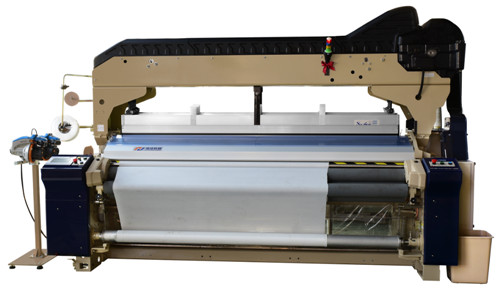 HW8010-230-D10 new high-speed and high-density water jet loom
In order to advance the project of intelligent chemical factory, the company has cooperated with strong domestic automation products and solutions, and has promoted the digitization of equipment toward intellectualization on the basis of its wide range of customers, equipment and application. At the same time, Haijia is still carrying out the product innovation and development in segmented areas according to its customers' demand, as well as focuses on improving product quality and services.
Having their own characteristics of competitive products
Haijia's products includes water jet loom of HW series and air jet loom of HA series. The service scope of Haijia loom covers five major industries: clothing, home textile, luggage, medical use and industrial fabrics.
Among them, HA9010-190-C6 high-speed air jet loom is another new air jet loom developed by our company on the basis of HA-N. The whole model has a more reasonable structure than other models. And it is suitable for high speed running (the sample's speed is over 1100rpm in the plan), which can produce light, medium and heavy fabrics. It can meet the requirements of customers more comprehensively, bringing more benefits for them. Haijia resorts to servo direct drive motor which can save energy up to 25%~30%. In the electrical aspect, the weaving process is optimized and the running speed of the electrical components is improved so as to realize the advantages of rapid, energy-saving and efficient operation of the equipment. In addition, the traditional connection mode of gas path is improved to make the equipment more energy-saving in the operation process and reduce the cost for customers.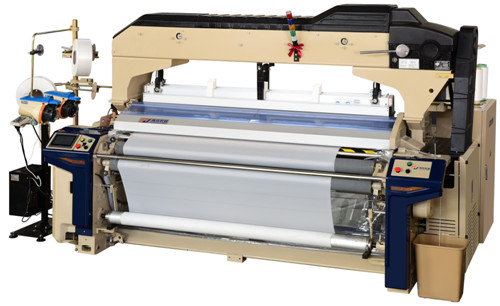 HW5012-190-P4 water jet loom
HW5012-190-P4 water jet loom adopts multiple reinforcement measures to maintain a good stability during the high-speed and high-density weaving; optimal design of weft insertion system improves the efficiency and is suitable for high-speed insertion; in the optimization of beating system, solid beating shaft and special beating balancing system are adopted. Solid beating shaft adopts reinforcement of supporting seat and centralized lubrication system, which improves the beating force and the wear condition of solid beating shaft, increase the service life of the machine.
HW8010-230-D10 new high-speed and high-density water jet loom is based on ultra-high speed performance and designed with a maximum speed of 1200rpm. The machine is widely used in weaving fine denier, high-density and high-speed fabrics. It can handle the weaving of special fabric easily from fine yarn to coarse yarn, from narrow width to wide width, from general fabric to double fabric. By shortening the cloth path of the fabric, the loom can run stably in the state of higher weft density as well. And it resorts to servo direct drive motor which can save energy up to 25%~30%.