By Yuan Chunmei
Qingdao Hicorp Group Co., Ltd., founded in 1966, is awarded Model Enterprise of Individual Champion in Manufacturing Industry (Cotton Spinning Roving Frame) by Ministry of Industry and Information Technology of the People's Republic of China, and is authorized as Product Research and Development Center for Coarse and Fine Combined Roving Frame by China Textile Machinery Association. During more than half a century of innovation and development, the size of the enterprise is growing, and its brand enjoys great influence in China and the global textile machinery industry.
Walking with the strong
There are a large number of textile enterprises, such as LU TAI, Texhong, BROS, Huamao, Huafu, Sanhe, Sunvim, Huaxing, and Zhenlun, etc., enjoying good reputation in China and the world. They have gained their own strength and won the recognition in the world because of their strong advantages in the fields of fiber, yarn, home textiles, printing and dyeing, etc. "As loyal customers of Hicorp, their growth also provides a strong support for the development of Hicorp. In the process of serving the needs of these enterprises for decades, the product and technology of Hicorp become increasingly stronger." Guan Yangchun, Chairman of Hicorp said.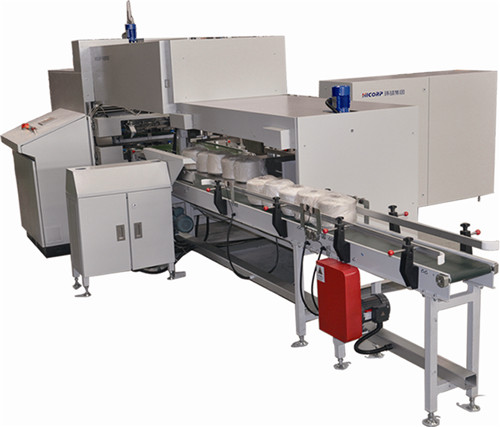 Bobbin yarn intelligent packaging logistics system.
In recent years, Hicorp has been showing strong performance in the market, maintaining rapid growth year after year. In 2018, Hicorp's orders were up more than 40% from 2017. "Hicorp CMT1800 coarse and fine combined roving frame system has been sold over 2000 sets and equipped with about 10 million spindles since it fully went to the market in 2009. In 2018, the sales volume of coarse and fine combined roving frame system exceeded that of the traditional roving frame, which means that it not only becomes the preferred equipment for high-end spinning enterprises at home and abroad, but also shines in the overseas market, with the share of more than 50% in many overseas markets." said Guan Yangchun. All these are benefited from Hicorp's strong ability to customize services.
Mastering the core technology
Hicorp is aware the importance of technological innovation by the changes in the global economy and the adjustment and upgrading of China's textile industry. "In the global competition, only by mastering core technologies can enterprises have a way out, especially for entity enterprises. We can never be strong without technology as the support." said Guan Yangchun.
It is reported that every year, more than 5% of Hicorp sales revenue is used for technological innovation, and numerous recognition from industry inside and outside and a large number of patented technology prove its value. Over the years, Hicorp has been introducing new products and technologies at a steady pace: launched bobbin yarn intelligent packaging logistics system in 2015, unveiled HCP910 high speed intelligent air jet loom in 2016, exhibited HR-01 intelligent handing robot for textile factory in 2017, and made a global debut for Hicorp's latest generation of intelligent roving frame—HCP2025 intelligent roving frame in 2018.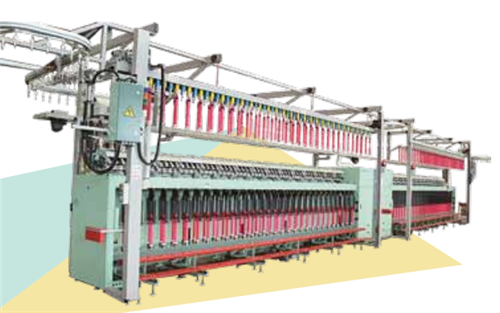 HCP2025 intelligent roving frame.
For Hicorp, innovation never stops. "Even if our competitive products—roving frame and coarse and fine combined roving frame system—have very good performance and market recognition, we will continue to improve and upgrade our products, and carry out innovation according to the needs of customers so as to help them deal with hard difficulties including labor, quality, efficiency and others." said Guan Yangchun.
Leading the future with intelligence
We are living in a world where we have to run against the time and every enterprise in it must keep up, or they will be hard to survive. "With the development of society, people expect a more relaxed and efficient way of life and work. Therefore, dull, repetitive and labor-intensive work must be done by robots." When we talk about current global topic "intelligent manufacturing", Guan Yangchun believes that enterprises must take action. "Let's take the bobbin yarn intelligent logistics and conveying system as an example. Before 2015, China's relevant product technology was still in a blank state. At that time, Hicorp started to make plans to invest a lot of resources for development, and finally we got products with complete independent intellectual property rights, truly realizing the unmanned packaging of woven fabric bobbin yarns." Guan Yangchun introduced. In fact, the launch of this product technology of Hicorp won not only the technical highland of this field for itself, but also the market. The introduction of this technology to the market soon won the orders of enterprises including BROS, Texhong, Sanhe, Weiqiao, Ruyi, and Huamao and so on.
"We are looking forward to creating a centennial Hicorp and are working hard to build Hicorp into a respected world-class company." Guan Yangchun said, "For that, Hicorp will always advance with the time to promote product technology and its own innovation, so that the innovative achievements of Hicorp can better serve the global textile enterprises."