By Zhang Ke
The Exterior of WSF.
ZHEJIANG WANSHIFA TEXTILE MACHINERY CO.,LTD.(WSF) is a professional company specializing in the R&D and manufacture of electronic winding machinery. We provide the most creative winding solutions for different requirements of different yarn kinds with our own precision winder, sewing thread winder, draw heat-setting winder and other new winding machines designed for yarn processing. From the simple mechanism winder to the newly developed digital precision winding machine, we are creating our brilliant future by innovation and quality.
Great R&D attention
WSF has always attached great importance to scientific and technological research and development with strong professionalism, and now has achieved a high level of technology development. In the first few years, we already have different types of precision winders. After several years of research and development, the newly developed digital precision winder with many invention patents and utility model patents can provide great winding solutions for different yarns. The company's technical research and development personnel have further improved the equipment on the basis of the original precision winder, and the active unwinding system reduces the damage to the yarn during the operation of the machine. In the decade since its establishment, WSF has owned nine invention patents and more than twenty utility model patents, and all products are known as "provincial-level new products". The winding technology has reached the domestic leading level. In 2015, we are awarded "Science and Technology Enterprise of Zhejiang Province" by Science and Technology Department of Zhejiang Province. In 2017, we are awarded "High-tech Enterprise" by Ministry of Science and Technology of the People's Republic of China.
Independent intellectual property rights
WSF mainly focuses on developing advanced winding machine on the basis of self-reliance. R&D engineers design the new winding machine. Purchasing director will be provided the details to obtain spare parts. The spare parts are basically outsourced and customized according to the drawings. They will be assembled by the production workshop, and then the whole machine will be sold. The spare parts are generally only available to customers who have purchased our products. The control system also adopts an independent development system, and the company enjoys independent intellectual property rights. A lot of patents are certified to protect our rights. What's more, the company has been registered in the customs, qualified for import and exports of goods, and can conduct international trade independently.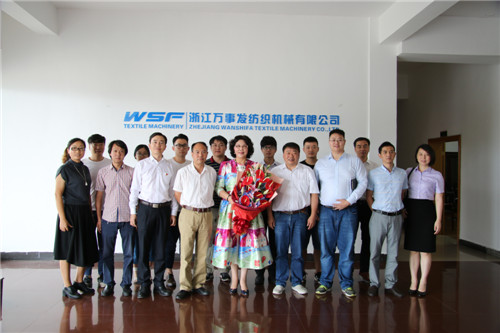 Group Photo of Top Executives of WSF and Wanfeng Group.
Rational R&D collaboration
WSF works closely with national scientific research institutions in many industries, and the quality of its products is in the domestic leading position and closely following international advanced technology as well. The innovative production equipment is a high-end textile equipment. High-speed, intelligent and functional electromechanical integration makes our products at the forefront of modern textile production. At the beginning of its establishment, WSF established a R&D center and has maintained close cooperation with universities such as Zhejiang University and Hangzhou Dianzi University.
After years of accumulation and transformation, WSF has possessed a complete modern enterprise management system, and the management personnel have rich and professional knowledge and experience, as well as strong market development and management capabilities. Based on the principle of "Quality First, Customer Supreme", we will constantly improve our brand influence and create a better future.
WSF's orientation: A company that specializes in the development, manufacture, sales and service of winders with great professionalism.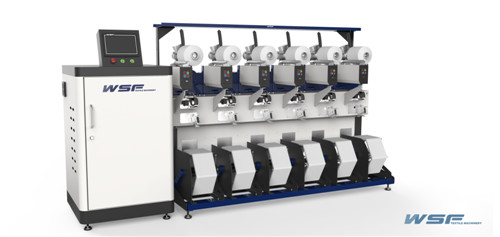 WSF200A
Main business & service:
Services for customization, installation and commissioning of loose (tight) precision winder machine;
Services for customization, installation and commissioning of stretch-type precision winding machine;
Services for customization, installation and commissioning of high-speed precision winder machine;
Sales of parts and components of winding machine;
Overhaul, repair and modification of the equipment;
Maintenance of the winder system, inverter, etc.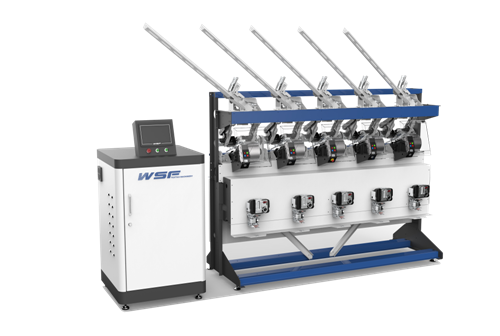 WSF500B
Main products & solutions:
WSF200 precision digital winder
WSF500 automatic sewing thread winder
WSF618B-LS draw heat-setting winder
DTY/FTY soft winding
Cake/Muff active unwinding
Embroidery thread package dyeing soft winding
Polyester/Nylon hank to cone active unwinding
Nylon/Fluorocarbon fishing line soft/final winding
Viscose rayon filament active unwinding
Low melting point Nylon/Polyester winding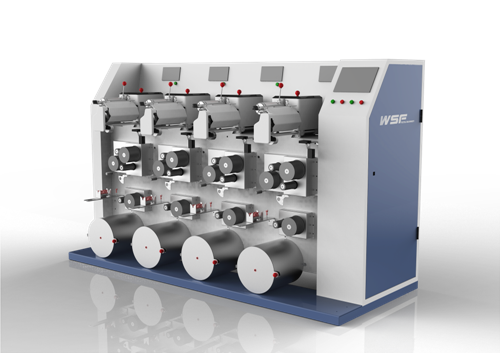 WSF618B-LS